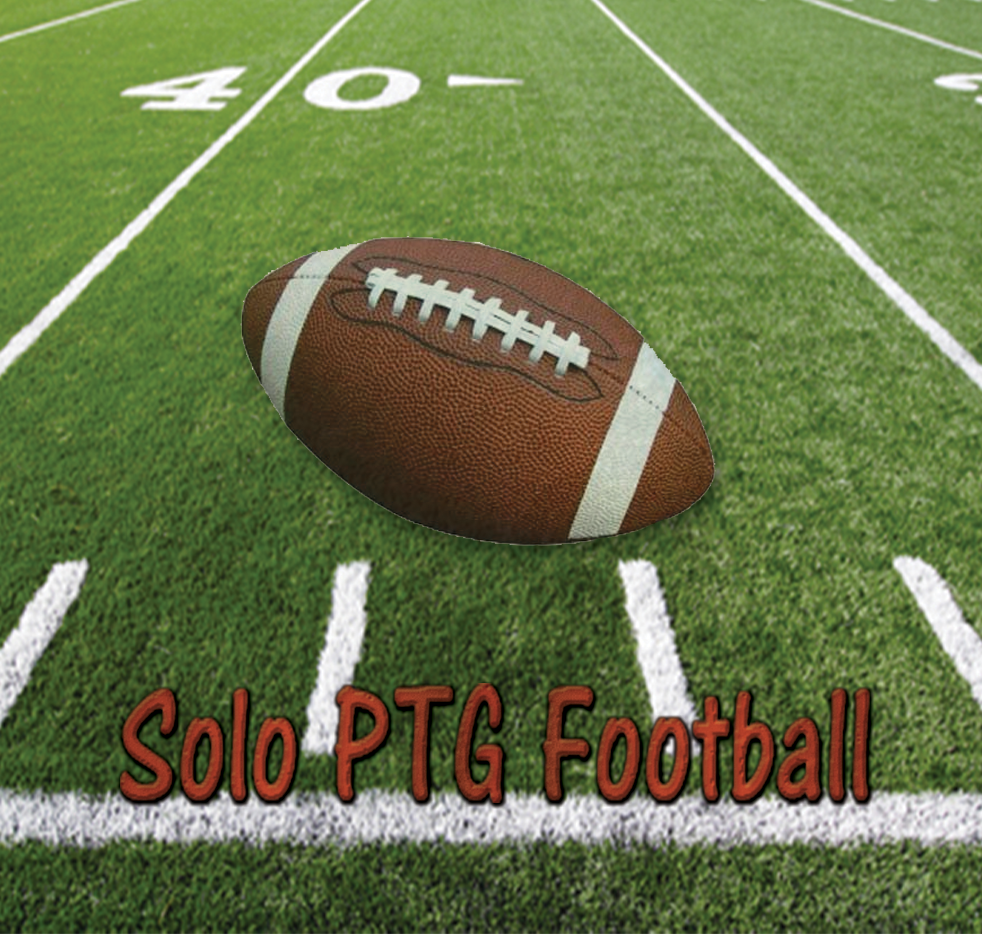 2009 – 2021 Seasons Available Now!
Core Game in Print!
An "unboxing" video of Solo PTG Football DTC Components. About 15 minutes.
Solo PTG Football Unboxing Video
A 45-minute intro video. Shows components and running a few plays.
A short video (25 minutes ) in which I talk about the 2-decks. 
Solo PTG Football Decks Discussion
A 40-minute video of 1-quarter of play between Jacksonville v. Minnesota
Solo PTG Football 1-qtr play through
Solo PTG Football builds on the successful PTG Football engine. We listened to our customers and have a version that requires little table space while maintaining a fun and accurate game of football.
Using team sheets and 2-decks of cards to drive the action allows gameplay to move very quickly and keep you on the edge of your seat. Only a few charts are needed for gameplay and not even for every play.
The 1-5 Steps Deck allows a play to be called using 5-steps. Working from James Gordon's Statis Pro football solo play variant, the first 2 steps are on the field display and as pictured below steps 3-5 come from a flip of cards (new card flip for each step) for an offensive play, ball handler, defensive formation, and defensive play call.
The Action Deck works like the old FAC deck from Statis Pro. Moving the action along including required numbers (dice can be substituted), the run blocking battle, a new unique feature of the game a pass-blocking battle, "Z" or random events, including penalties, fumbles, and injuries are generated from the deck. 

Once you learn the system, plays can be completed in under a minute. Most of the chart lookups will be memorized in a very short amount of time.